NFS160N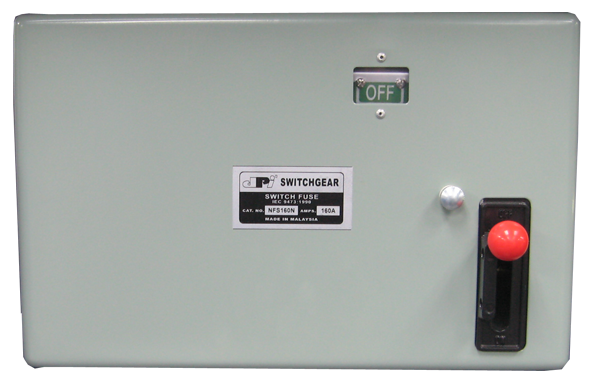 NFS Fuse Switches are designed for easy installation and to simplify swichboard construction.
Designed and engineered in Australia, the robust NFS fuse switches performance have been proven in the extremely hot and humid conditions of Asia Pacific.
The standard NFS fuse switches are the Front Connect version complete with unswitched neutral link.
Back connect version and 3 pole units (without neutral link) are available on request.
Surface mount enclosed type are also available.
The NFS units can be used as isolators with the fitting of solid copper links.
Technical Specifications: NFS Fuse Switches (Triple Pole & Neutral)
Rated Thermal Current
160A
Rated Duty - 8 Hour
160A
Rated Duty - Uninterrupted
160A
Rated Operational Voltage (AC23B)
415VAC
Rated Insulation Voltage
690V
Neutral link
80A
Frame size
2
Rated fused short circuit current
50kA
Rated fused making current
50kA
Mechanical Endurance (min)
1600 ops
Associated Specifications
BSEN60947-3:1992, IEC947-3:1990
Performance Data to utilization Cat. AC23B
Uninterrupted Duty: (Links fitted)
-
Rated making capacity (AC)
-
Rated breaking current (AC)
-
Rated short time withstand
-
Current (fitted with copper links)
-
Technical Drawing